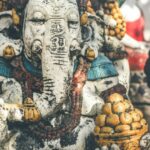 Wednesday and we venerate Ganesha. Visualise him with the brilliance of the dawn at sunrise. In his left hands, he holds the noose, and the gesture of fearlessness. In his right hands, he holds the granting of boons and the goad.
His face is that of a Golden elephant and his clothes are red in colour. He is laden with gold ornaments. He removes all obstacles in our life, be they physical, emotional, mental or spiritual. Now we come to the best part of the meditation.
We visualise the offering of sugarcane, fried wheat flour, bananas, beaten rice, sesame seeds, sweets like laddoos, coconut and parched grain to him.
It is a joyous visualisation sadhana combined with breath awareness and we repeat Om Gam Ganapati Namaha.
Also the colour for today is green.
Aim Hrim Klim.