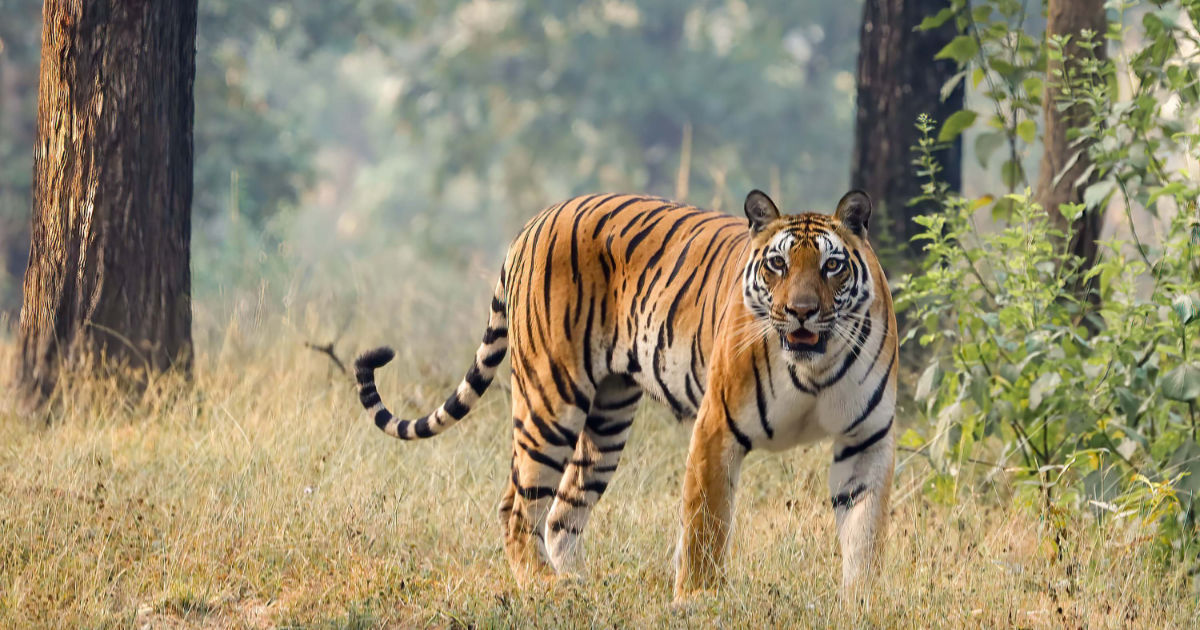 A true story. A farmer saw a tiger in the forest. He watched the tiger and then went and pulled his tail. The tiger turned around and struck the man, who was mortally wounded. The victim was taken to the hospital where he died. It really happened in India. Now why would he pull the tiger's tail. It is a case of where fools rush in where angels fear to tread.
Tigers are called Bagh because of the strength of their front paws and in Hinduism, they represent power of the divine and spiritual energy. In the figurines discovered in Mohenjo daro, the tiger and other animals surround Shiva. Rishi meditate sitting on a tiger skin and Shiva is portrayed wearing one. Tigers represent the control over lust and the skins, the seers sit on are either old tigers or tigers which were killed because they were predatory animals.
Shiva's tiger skin is an illusion. Goddess Durga's mount is the tiger, and she slays demons while riding one. The tiger represents her power to destroy evil. Durga and her tiger also symbolize the powerful union of the sacred feminine force and Mother earth that can fight evil without fear.
Would you test the tiger?
Coming back to the news item, why did this farmer test the tiger? What would you do if you saw the regal beast in the forest? Remember, he is super strong, he can climb trees and a swipe can kill one. I would admire his face, coat and might. And pray to the Goddess to protect me.
Do not blame God for having created the tiger but thank him for not having given it wings. – Hindu Proverb

A tiger may say, 'Man was created for me, and tell me Lord why do these men not come and place themselves before me to be eaten. They are breaking your law.' If the world is created for us, we are also created for the world. That is this world is created for our enjoyment is the most wicked idea that holds us down. This world is not only for our sake, we are also for the world. – Swami Vivekananda
It is also believed that tigers are spiritually advanced creatures. Some of them might have been humans in their past lives, or may assume human birth in their next lives. He is also considered the brother of man. What is being quoted is that there exists a holy union between man and nature and the cosmic spirit wishes to ensure that it stays that way without the destruction of the common habitat.
I am not defending the noble tiger; I just say that we should respect him and give back to him his kingdom.
Aim Hrim Klim
Photo by Tapan Kumar Choudhury on Unsplash