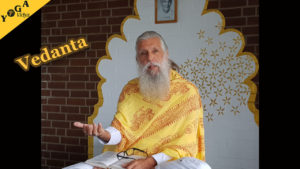 Story about Swami Satchidanandendra and Kirtan. The concept of avidyā / ignorance. Best source is adhyāsa bhāṣya: Introduction to the commentary of Shankaracharya
on the Brahma Sutras. 2 notions of ignorance: Shankaracharyas notion of mithyā jñāna and Padmapādas notion of mithyā ajñāna. Avidyā and māyā. Waking ego, dream ego and the witness. Vedānta is no dogma. Ego is kṣetra. Every quality is an object to the witness. Sadhana: act to get rid of tamas. Do your duty with no desire for the fruit of your action to overcome rajas. Sadhana to become free from actions (naiṣkarmya): no attachment to saṅkalpa, karma, karma phala. Freedom from the gunas. Jñānaniṣṭha. Jñāni. Bhagavad Gītā ch. 18, 66.
More Vedanta Seminars you will find here.
More on Vedanta you will find here.
English Community, Blog, Seminars you will find here.

Podcast: Play in new window | Download
Subscribe: RSS